Stereotactic Radiosurgery Institute
Sheila Wang, Ph.D., a very spiritual, kind, sensitive, intelligent researcher and mother of three selected Rotating Gamma System Radiosurgery for treatment of her Brain Metastases so she could Live Better and Live Longer.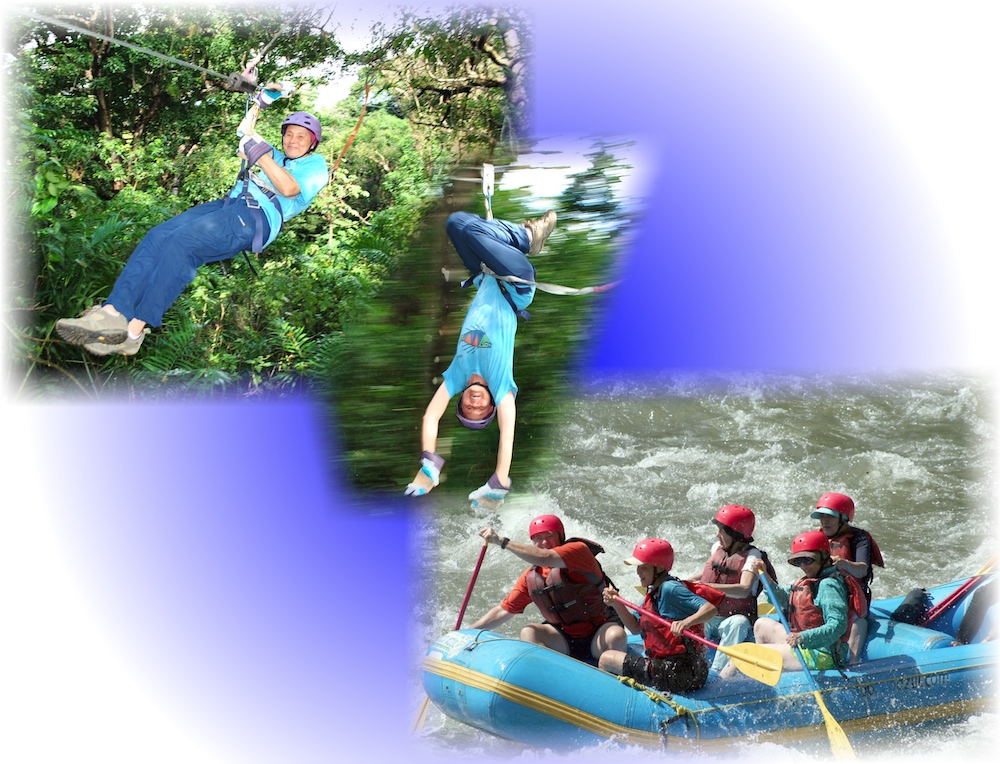 Dr. Wang enjoying herself during a trip to Costa Rica after the treatment of 18 Brain Metastases in two Rotating Gamma System Radiosurgeries.
Sheila Wang, Ph.D., worked hard in her career to help ill children and adults deal with their stress to improve their lives. She was part of a team at The Judith Nan Joy Integrative Medicine Initiative at Children's Memorial Hospital in Chicago, Illinois affiliated with the Northwestern University Feinberg School of Medicine. Her goal was to develop the best healing environment for pediatric patients avoiding unnecessary use of pharmacological agents.

Dr. Wang found that she had breast cancer. About a year later, while playing volleyball, she hit her head and developed headaches, motor problems, balance problems, and unsteadiness on her feet. Since the symptoms persisted, an MRI scan of the brain was performed and she found out that the cancer had spread to her brain. There were four definite large brain metastases and possible smaller ones noted on the MRI scan. She considered various options for treatment of the brain metastases including chemotherapy, craniotomy (open surgery to cut out the tumors), whole brain radiation therapy, and Stereotactic Radiosurgery. After discussing the possible benefits and risks of each of these approaches, Sheila decided to proceed with Rotating Gamma System Radiosurgery to treat the tumors. During the Radiosurgery, seven tumors were identified and treated. When she returned for a follow up visit approximately one month later, all of the tumors had decreased significantly in size and most of her symptoms resolved. She felt so well that she entered a Volleyball competition on Oak Street Beach with her children and they won a Trophy! The images below show one of the brain metastases on MRI before and one month after the Radiosurgery.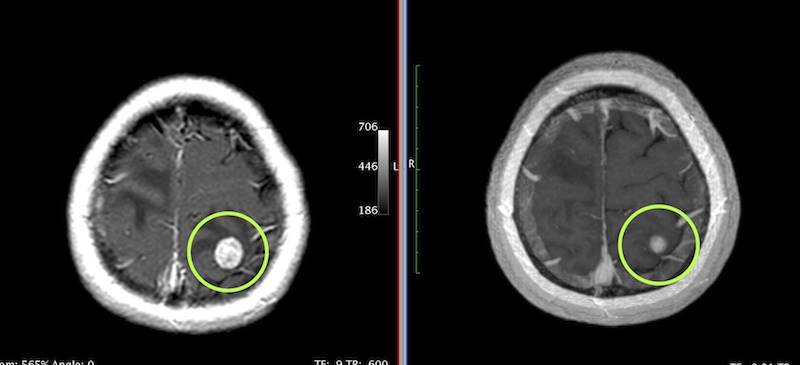 In the past, when people developed brain metastases, there was essentially no hope of surviving the cancer that had spread to the brain. With the protocol developed by Dr. Helenowski including close follow up MRI scans and aggressive treatment of brain metastases with Stereotactic Radiosurgery, however, it has become quite rare for our patients to succumb to the brain metastases. There was more spread of the cancer to the brain and Sheila underwent a total of seven Radiosurgeries for treatment of a total of 35 brain metastases, but the brain tumors were kept under control. She was not debilitated from the brain tumors and did not succumb to them. The treatment protocol allowed Sheila to spend time with her children, travel, and meet her new grandchildren, of whom she was very proud.

More on Brain Metastases.
Explore Brain Tumor Types.
Explore Brain Tumor Treatment Options.